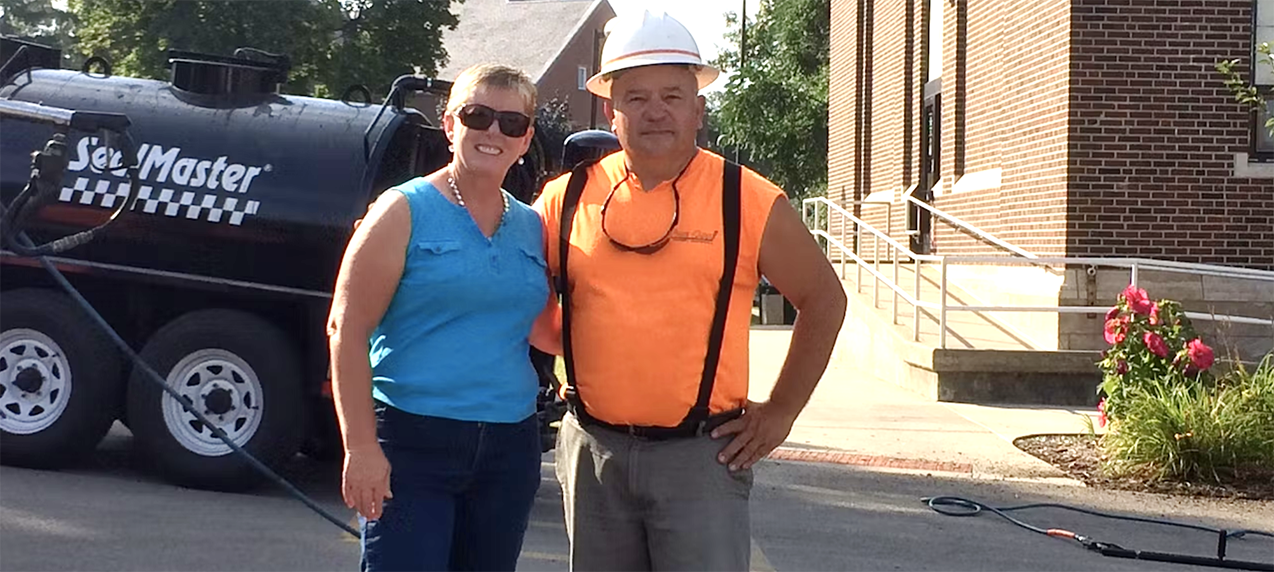 From an article in For Construction Pros magazine.
Success the First – and Second – Time Around
Pennsylvania's Pave Care resurrects its business
It's difficult enough to start a business and get it up and running and profitable once. How many people – other than Rick and Kathy Dillaman, owners of Pave Care in Springfield Township, PA – can say they've done it twice? With the same business?
Rick joined the U.S. Air Force in 1983 after graduating from high school, working as an air traffic controller. He left the active duty Air Force in 1988 "because I had an itch to get my shingle out" and he attended his first National Pavement Expo in New Orleans in 1989. That same year he bought a used Tymco 600 and started sweeping Walmarts and truck stops.
"We made it through the 1990s and kept growing and by 2000 we were doing sweeping, sealcoating, cracksealing, painting and bought an infrared hot box so we could haul asphalt and do patching," he says.
A successful business was up and running.
But even though he left the Air Force he stayed involved in the Pennsylvania Air National Guard – which as a result of 9-11 called him back to duty for six months in 2002. In 2003 the Air Force remobilized him because they needed traffic controllers, and in the end he was recalled for four deployments between 2002-2006, including tours of duty to Air Bases in Afghanistan , Iraq, and two other contingency Air Bases.
"For four summer seasons I was physically gone the vast majority of the time, and two of those summers I was gone completely," Dillaman says.
"If you belong to the Guard certain laws protect your job as an hourly employee, but there is not the protection for small businesspeople like me," he says. "I knew that and I made the choice, but when Uncle Sam called there was nobody here to handle the entire business. Kathy and my son Joe kept the basics going while I was gone but we basically mothballed summertime asphalt maintenance and the business was on the rocks," Rick says. "All those relationships we had spent years developing were gone because those people had to go somewhere else to get their work done."
Airports a Specialty
But in 2006 when he returned from Iraq he jumped right back in. "I started the business twice," he says. "In 1990 and 2006."
"When we re-engaged I made some calls and things slowly started to pick up. I just picked up the phone, called old friends and former customers to let them know we were back at it, full service, and trying to learn what they needed. Our service, our ability to provide what people need – that's what got us back. When a GC calls you've got to be able to go and solve his problem for him and we're able to do that."
Today Pave Care offers municipal, construction and parking lot sweeping; sealcoating (a third of their business); striping; and infrared pavement repair and patching.
And over the years they have come to specialize in non-paving jobs on heliports and General Aviation airports, which now account for half the work they do each year. Pave Care got the opportunity to paint their first runway in Franklin, PA, in late 2006, and once done realized that work was a good fit for the company. "The crew enjoyed it and with my knowledge as an air traffic controller it was a good job that went smoothly," he says.
Dillaman says General Aviation airports have some special security requirement, and they do require a bonding , which on that first job was $100,000, and they've gradually built up their bonding capacity over the years. "Attention to detail is paramount, especially on the striping because those airports don't have a traffic control tower," he says.
He says his trucks on runways have to have large flags and have to meet specific lighting requirements, and the crews are all wired up with audio so they can talk with one another and hear what's going on throughout the site. "It's a whole different work environment when you go to an airport vs. a commercial project. At the airport you're always looking at the sky and listening for noise," he says.
Dillaman says that on 85% of airports Pave Care is the general contractor. "If the work is geared toward cracksealing or remarking we'll bid as the prime or GC. If the job is heavily influenced by asphalt repaving or drainage issues we'll bid as a sub," he says.
Renting Equipment for Growth
Like many companies Pave Care started sealcoating with driveways, gradually growing to a 300-gal. tank with no pump to the 1,000-gal. truck-mounted tank and 550-gal. unit they now own. Most sealer is applied by spray, though they did rent a squeegee machine for more than two months last year and are considering adding a squeegee unit to their fleet. In 2017 they also rented a mastic patching machine and a mini-excavator for drainage work.
He says that for a while they rented a tow-behind hot-pour cracksealing melter/applicator trailer when working airports and just finally bought one. "Now it's in use all the time," he says. "It's paid for itself many times over."
He says balancing renting against buying is a challenge the company faces every year.
"A lot of suppliers are getting into equipment rental and that helps us as we're always trying to balance rent vs. buy," Dillaman says. "If money were unlimited we'd buy more equipment, but instead we just have to sit back and evaluate whether it's better to rent or to capitalize it."
Learning to Run a Business
Dillaman says learning to perform pavement maintenance work was easy compared to learning how to run a business. So he's worked with the local Procurement Technical Assistance Center and the local Small Business Development Center, and he, Joe and Kathy regularly attend training seminars, including booking a full slate of sessions at National Pavement Expo, where this year they investigated almost 10 vendors of estimating programs before purchasing Pave Soft.
From 2003-2005 Pave Care worked to improve its marketing, upgrading the website in 2007 and again this year to make it mobile friendly.
"When your customers look to get to you and your website isn't loading that's a representation of you. I'm still surprised by the number of calls and emails I get from the website," Dillaman says. "You can have the best service but if you can't get the word out it doesn't matter."
Call us now to schedule a time for your sealcoating project! 724.748.4370