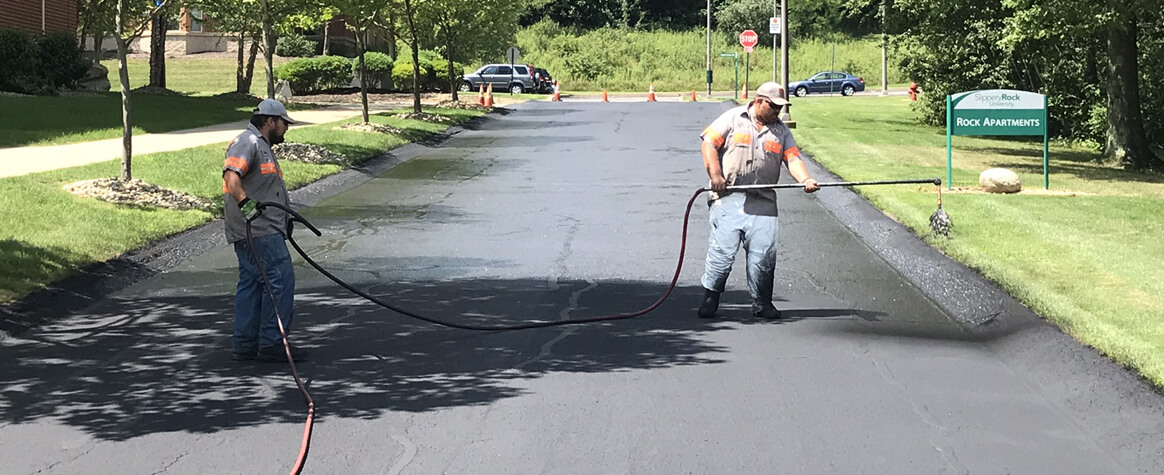 Pave Care offers seal coating to fit your specific needs at your home or business. We offer complete commercial and residential sealing, catering to all property owners.
Your parking lot is the welcome mat to your place of business. A clean, freshly-coated parking lot with bright stripes says you take pride in your business and welcome your customers. Sealcoating puts a fresh micro-layer of asphalt on your parking lot – probably your biggest investment– second only to the buildings themselves.
Sealcoating not only makes your parking lot look more inviting, it protects the asphalt from weathering. It's a cost-effective way to preserve your existing asphalt and extend its life, while giving your parking lot that freshly-paved look.
Pave Care uses a commercial emulsion sealer with additives for the sealcoating process. Large areas are applied through a spray while smaller areas and driveways are done by hand with application brushes.
Sealcoating is part of every preventative maintenance plan and it is the easiest way to protect your pavement investment, keeping asphalt in the best condition possible.
Why Sealcoat
Save money and increase investment value – on average you'll get at least twice the lifespan on your pavement with proper sealcoating.
Restore appearance – sealcoating makes your pavement look like new!
Prevent water damage – water is the number one reason pavement deteriorates. Sealcoating prevents water from seeping through pavement.
Create a protective layer – Sealcoating protects pavement from water, salt, weather, gas and other petrol-based chemicals, all of which cause damage to pavement.
Call us now to schedule a time for your sealcoating project! 724.748.4370